Get referred to our services by clicking here:
DEFINITION OF DOMESTIC VIOLENCE AND ABUSE
The UK Government defines domestic violence and abuse as:
« Any incident or pattern of incidents of controlling, coercive or threatening behaviour, violence or abuse between those aged 16 or over who are or have been intimate partners or family members regardless of gender or sexuality."
"The Government definition includes so-called "honour" based violence, female genital mutilation (FGM) and forced marriage".
Source: https://www.gov.uk/government/news/new-definition-of-domestic-violence
OUR SERVICE
Welcome to CAHN's Domestic and Sexual Violence Support – a safe haven for anyone who has experienced domestic abuse. Our doors are open to everyone, regardless of background or ethnicity.
At CAHN, we understand the emotional turmoil and trauma that victims of domestic violence go through. That's why we offer free and confidential culturally and religiously appropriate counselling sessions with our qualified professionals. We are here to provide you with the emotional support you need to heal and recover. Empowering you in this difficult time.
Our Independent Domestic Slavery Advocates (IDSA) will take the appropriate safeguarding measures to reduce the risks that victims may face. We liaise with multi agencies to provide holistic support to victims. We also empower victims to regain control of their lives, become independent of the perpetrators and live fulfilled lives.
We also support in the following ways:
-Free and confidential counselling sessions by working alongside professional counsellors in Greater Manchester.
-Coordinate with support services by signposting, referrals to relevant organisations etc.
-We let you decide, from our range of support, what might benefit you most.
-We listen to you and provide the necessary support to help you get back on your feet
Case Study
At CAHN, we support victims of domestic abuse every step of the way. Recently, we helped a victim who was facing legal action from their perpetrator in criminal and family court. Our Advocacy team referred the victim to the counselling team for support with the trauma from the abuse. With the support of the advocacy team, the victim now has custody of the children, and the criminal case has been dismissed. CAHN worked with the relevant stakeholders to ensure that the victim received Indefinite Leave to Remain status. We also supported the victim in relation to housing and now the victim can bid for social housing. The feedback from the victim was:
"I'm so grateful for the services I have received so far. Keep doing what you are doing… They are welcoming, always listen to my problems and render solutions".
SAY NO TO DOMESTIC AND SEXUAL VIOLENCE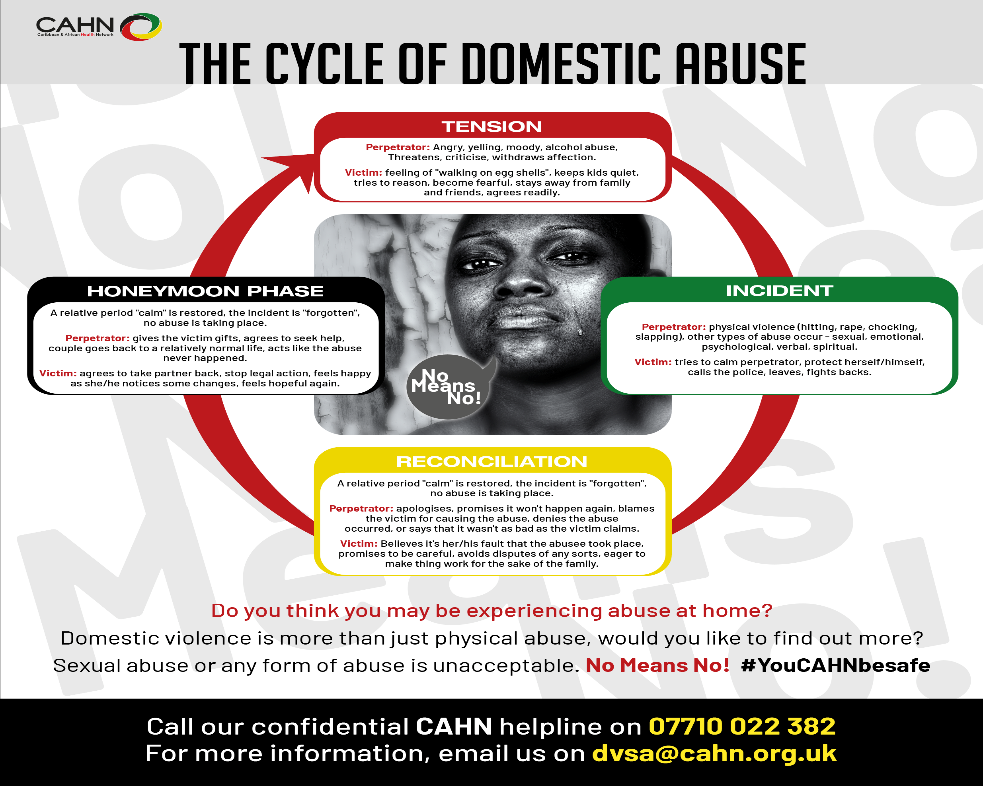 TYPES OF DOMESTIC VIOLENCE: 
Anyone who is a victim of domestic abuse.
Anyone who is a victim of sexual abuse.
Anyone who has lost their self-confidence because of DV and SA.
Anyone going through depression as a result of DV and SA.
If you are unsure about your relationship and you feel unsafe, please give us a call.
Our team of professionals will help you in identifying whether your relationship is unhealthy. But recognizing some early signs of an unhealthy relationship can save your life.
The list below is not exhaustive, but it may help in identifying signs of domestic violence:
Bruises on the body
Weight loss
Social withdrawal
Erratic or extreme jealous behaviour (checking the other partner at their workplace, stalking…)
Disinclined to engage in conversation
Showing anxiety when thinking of going back home
Being afraid of your partner
False accusations
Partner is intimate with you without your consent
Partner abandons you in a place you don't know
Domestic violence encompasses different types of abuses:
Physical abuse 
Emotional abuse
Sexual abuse
Financial abuse
Not allowing you to practice your religion
Psychological abuse
Financial abuse
Forced marriage
FGM or female genital mutilation
Contact us on:
Confidential Helpline: 07710 022 382
Email: dvsa@cahn.org.uk
#WeCAHNHelp