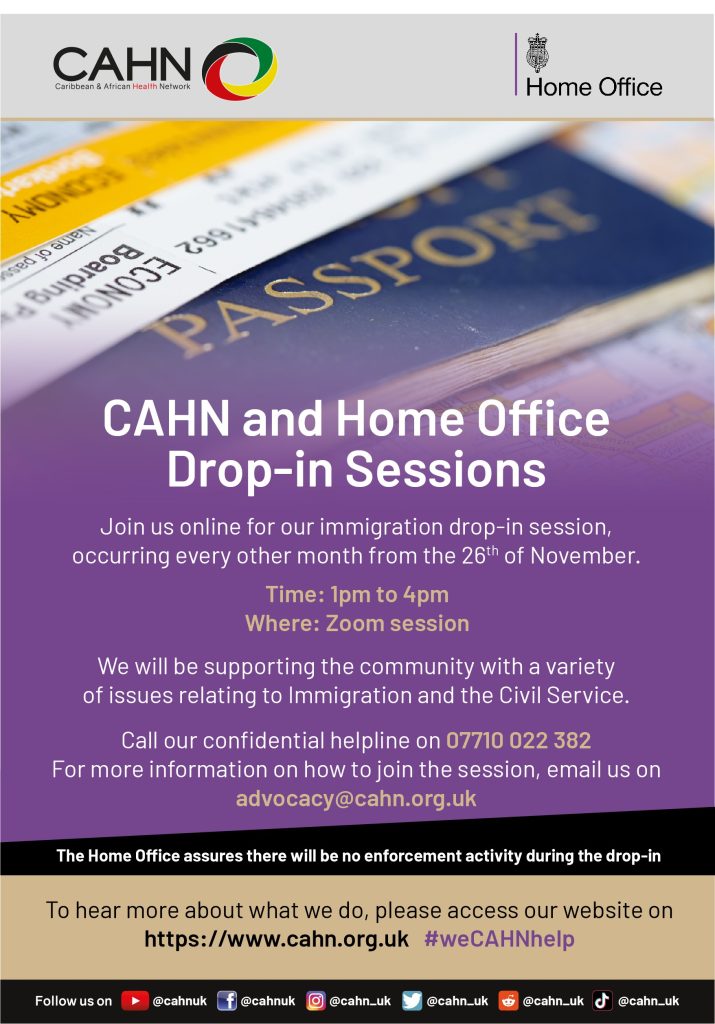 Together with the Home Office, CAHN has launched the drop-ins to ensure that our community has access to accurate information when it comes to immigration and also to provide a platform where you can step in with no fear of enforcement.
Given that the drop-ins are virtual you can sign in from anywhere in the UK and it is your choice whether you switch on your camera, provide your real name or give any information at all.
We have also been assured by the Home Office that no enforcement action will be taken during the sessions.
Please refer to below to check when our sessions take place:
| | |
| --- | --- |
| Date | Session |
| 26th November 2022 1pm to 4pm | Speaker: Home Office Topic: "Domestic Abuse & Exploitation" |
| 21st January 2023 1pm to 4pm | Speaker: Home Office Topic: "Windrush" |
| 18th March 2023 1pm to 4pm | Speaker: Home Office Topic: "Settling in the UK and Community Integration" |
| 20th May 2023 1pm to 4pm | Speaker: Home Office Topic: "Re-settlement" |
| 15th July 2023 1pm to 4pm | Speaker: Home Office Topic: "Social mobility – Employment in the civil service" |
| 16th September 2023 1pm to 4pm | Speaker: Home Office Topic: "Immigration Awareness for Students" |
| 25th November 2023 1pm to 4pm | Speaker: Home Office Topic: "Domestic violence, FGM & Exploitation" |
| 20th January 2024 1pm to 4pm | Speaker: Home Office Topic: "New Immigration Rules/ Children born in UK and abroad" |
| 23th March 2024 1pm to 4pm | Speaker: Home Office Topic: "Asylum- Overview and updates" |
| 18th May 2024 1pm to 4pm | Speaker: Home Office Topic: "Windrush compensation and general Windrush updates" |
| 20th July 2024 1pm to 4pm | Speaker: Home Office Topic: "Social Mobility/Career awareness in Civil Service" |
| 14th September 2024 1pm to 4pm | Speaker: Home Office Topic: "Immigration awareness for students" |