3a) Upcoming events
Please keep checking for information on our next event as we update our website regularly. Sign up for our website calendar and follow us on social media.
3b) Past Events
International Women's Day 2023 (IWD) Special F&A Session
As part of the celebration to mark the International Women's Day 2023 themed "#EmbraceEquity", CAHN hosted a special IWD edition for their virtual Family and Advocacy Support Session, titled: "The Survivor's Journey: A positive Outlook on Life." – As we embrace equity, we must understand what it takes for women to achieve this.
We had our amiable guest speaker, Kate Green, Deputy Mayor of Greater Manchester Police, Crime, Criminal Justice, and Fire, as well as other amazing speakers and panellists. The event was well attended, and participants provided brilliant feedback on the event.
Victims' Voice Launch Event – 14/02/2023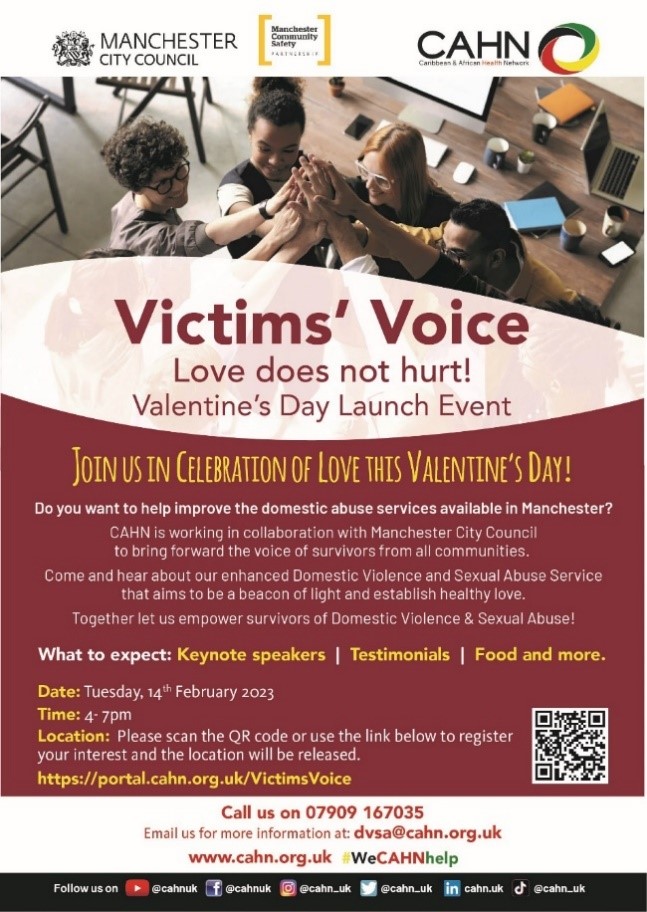 4. FEEDBACK
What people had to say
"The Valentine Day reference for the event was spot on for me, it allowed me to celebrate love while reflecting on what love shouldn't be"
"Such a nice touch to gift a rose to every attendee regardless of gender. I got my first rose from this event, and I love it"
" Good range of speakers of unique styles. Message of strength and optimism from survivors of DA. Very friendly and welcoming atmosphere "
"The event was an eye opener for me as a young person, I felt more educated on what actions I should take if my relationship or that of anyone close to me turns abusive and hurtful"
"Understanding that CAHN seek to also assist perpetrators on their journey as part of the DV (Domestic Violence) offering is a refreshing approach for me- without education and necessary assistance, we move around in circles"
"The council representatives gave brilliant speeches, and I was really excited by the launch event and its turnout"
"Amazing real-life stories. They were so touching and inspiring"
"Hearing the powerful voices of the survivors as they told their stories - they were amazing women"