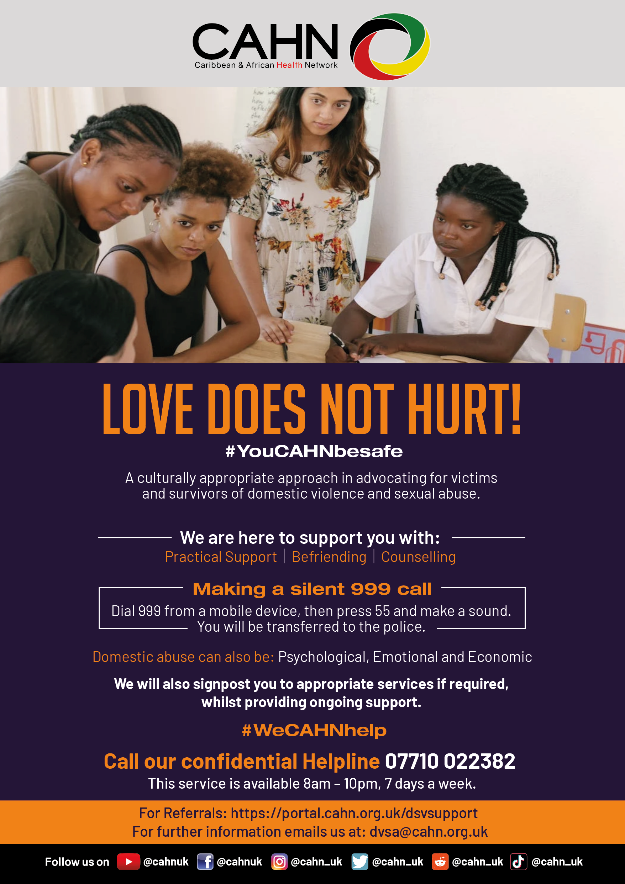 The Victim's Voice project (commissioned by the Manchester City Council) is a project administered jointly by the CAHN (Caribbean & African Health Network) Domestic Violence and Sexual Abuse and the Manchester City Council.
Manchester City Council operates several local government services that aim to assist victims of domestic violence and sexual abuse within Manchester. CAHN's approach includes ways to improve these services and empower victims of domestic violence through the stories of survivors.
1a) The Aim of the Project is to:
Engage: Engage with victims of domestic violence and sexual abuse from diverse backgrounds to understand the gaps within the current service provision and gather feedback to help improve Manchester Council's services.
Collate: information to help inform future decision-making and create an inclusive and user-friendly service at the Manchester City Council.
Feedback: Engage with victims of Domestic Abuse, Sexual Abuse and gather feedback on how we tackle Violence Against Women and Girls across the Partnership. 
1b) Our Objectives:
Reaching out to and engaging with victims from other backgrounds. 
Establish a Victims' Panel with people with lived experience. 
Amplify the voices of service users.
Collate information to help improve current service provision and inform future decision-making. 
Contribute to the DA Partnership Board with either written or verbal updates. 
Contribute to the VAWG Steering Group with either written or verbal updates. 
We extend our immense gratitude to all individuals who expressed their interest in joining the Panel Recruitment project and generously offering their voices to this noble cause. We deeply appreciate your enthusiasm and dedication.
Regrettably, the process of recruiting panel members for this project has now reached its conclusion. However, we value your input and encourage you to direct any questions, enquiries, or comments to dvsa@cahn.org.uk.
Once again, we express our sincere appreciation for your interest and support throughout the Panel Recruitment process.
The panellists have already made brilliant contributions to improve the Domestic Violence services in Manchester City Council, including Housing, Children services, Police response, and lots more.
Watch out for our comms on social media to follow the great work the panel is doing.