Family & Advocacy Sessions
Every second Wednesdays of the month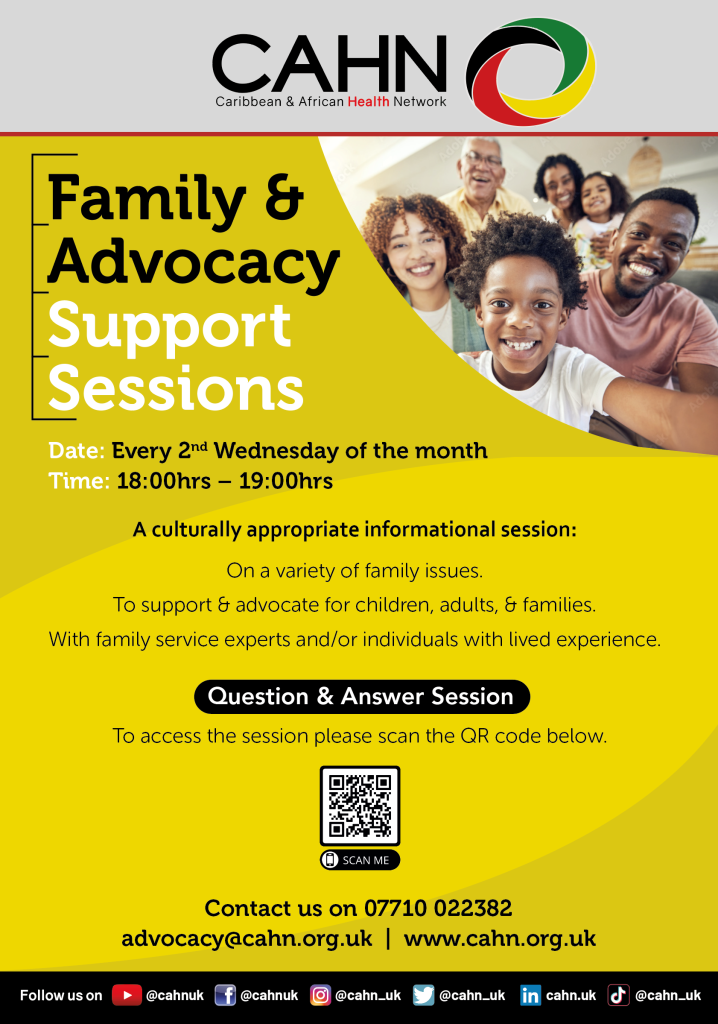 Month

Session

9

th March 2023 

Speakers: (1) Kate Green, Deputy Mayor of Greater Manchester

(2) Treena Raffles, TLC: Children & Young Persons Domestic Abuse Service Manager 

(3) Emma Williams, Saint Mary's Managed Clinic Service 

(4) Edith Zingano & Josephine Idoko, Domestic Violence Survivors
Topic:  International Women's Day Special Edition – The Survivor's Journey: A Positive Outlook on Life  

 

29th March 2023

Speaker: Juanita Headley – Book Author "What is your Currency?" – Founder of Changing Cases.

Topic: "Human Trafficking, Child Abuse & Child Grooming"

 

12th April 2023

 

26th April 2023 

Speaker: Nelly Azenwi -Social Worker

Topic: "Assessments: Is engagement necessary?"

 

 

 

Speaker: Emma Williams, Saint Mary's Managed Clinical Service – Topic: Emergency Gynaecology

10th May 2023

Speaker: Advocacy Team –

Topic: "Q&A"

14th June 2023

Speaker: Abigail Sterne and Audrey Johnson –
Educational Psychologists with One Education

Topic: "Supporting Your Child with Special
Educational Needs and Disabilities (SEND)"

12th July 2023

Speaker: Gareth Nixon, Programme Lead –
Topic: 

Adverse Childhood Experiences and Trauma-Informed Practice

9th August 2023

Speaker: Nelly Azenwi -Social Worker –
Topic: 

"Assessments: Getting the right support"

13th September 2023

Speaker: Indhu Sharma (TalkListenChange)–
Topic: 

"DV – Safe Healthy and Happy Relationships"

11th October 2023

Speaker: Nelly Azenwi – Social Worker –
Topic: 

"Disciplining children: To spank or not to spank?"

15th November 2023

Session: Family and Advocacy –
Topic: 

"Domestic Abuse and its impact on children and young people"

10th January 2024

Speaker: Nelly Azenwi – Social Worker –
Topic: 

"Parental Responsibility: Child Neglect and Child Supervision"

14th February 2024

Speaker: Nelly Azenwi – Social Worker –
Topic: 

"Navigating the foster care system: What to do when your child goes into care"
CAHN's Family & Advocacy Sessions occur every 2nd Wednesday of the month, with the purpose to address the issues that are faced by the families and individuals of the Caribbean and African Community.
The sessions vary between having a qualified social worker discussing pertinent issues in the community and how to address them, to also having the presence of CAHN's Advocacy Officers, who can do a Q&A regarding the vast work they do with the black community, in a variety of sectors such as housing, immigration, employment, social services, etc.
The sessions also feature guest speakers with expertise in certain areas or individuals with lived experience and what their journeys have been in overcoming their difficulties.
This is a culturally sensitive and targeted support for vulnerable African & Caribbean families who disproportionately face a range of complex issues and challenges.
For further information, please contact us on:
Helpline: 07710 022 382
Email: advocacy@cahn.org.uk